Exclusive Private Invitation For Post Gopher Owners... Introducing The Awesome 'COVERT PLUGIN' Bundle...
Are You Losing 70% Of Your Blog Traffic?.. With This Game Changing WordPress Plugin You Can Get It All Back In Less Than 7 Seconds!
And Better Still... Transform It Into A Virtual Cash Cow, Milking AMAZON For Massive Commission Checks On Complete Autopilot
Grab Both Covert Copy Traffic Pro And Covert Context Plugins -
Watch These Two Quick Videos For Full Details
The Pro version of this plugin usually sells for $47 (front end and Pro upsell) but that's NOT the price you'll pay today thanks to this exclusive private deal from Post Gopher coding wizard, John Merrick.
Covert Context usually sells for $67, the lowest price it's ever been offered for before is $27 - But again that's NOT the price you'll pay today because you're already a Post Gopher VIP user - And that means a LOT to us...
Some Very Shocking Statistics...
For Every 1 Visitor Who Uses Your Social Sharing Buttons 90 Will Have Shared Your Content By Copy & Pasting!

That's right... And of course when they do - you get no benefit whatsoever: You get no backlinks - no referral traffic - no nothing!
IN FACT: Recent stats have shown that... Up To 6% Of All Visits To Your Site Results In A Copy & Paste Share You Get Zero Credit For!
That's an awful lot of traffic you are missing out on! You've put blood, sweat and tears into creating that content (or have paid through the nose for writers to create it for you)

The least you would expect is a link back with a chance for some referral traffic when people share your content.But unfortunately you get none of that UNLESS you install the Covert Copy Plugin today!
Installation and activation is super simple too.. see below:
Attribution Message Builder: Create Stunning Ads & Bio Boxes That Will Generate More Clicks For Your Links!

Powerful Macros: Use These In Your Attribution Messages To Automatically Include Links, Time, Titles Etc.

Add Attribution To Feeds: Automatically Include Your Attribution Message & Link To Your RSS Feed & Get Backlinks Whenever Your Blog Is Scraped!

Use Keyword Rich Anchor Text: Automatically Add Anchor Text To Your Feed Attribution Links For Increased SEO Benefit!
TOP LEVEL LICENSE INCLUDED: When you purchase this bundle today from this special page, we'll even include multi-site and site flipping license at no extra cost! That means you can... Use the Covert Copy Traffic PRO plugin on as many of your own blogs as you like - existing and future ones. (You can even use it on blogs you build for clients or on blogs you flip for profit!)
And Here's How To Monetize All That Extra Traffic!
When we put this special plugin bundle together we knew you'd like the idea of protecting your content and driving more traffic back to your blog. But we think you'll LOVE the idea of turning your content into cash with contextual advertising and that's why we've included the awesome Covert Context plugin too...
As you saw in the video above Covert Context is super easy to use and incredibly effective. But the real secret here is that you're ads will be powered by Amazon.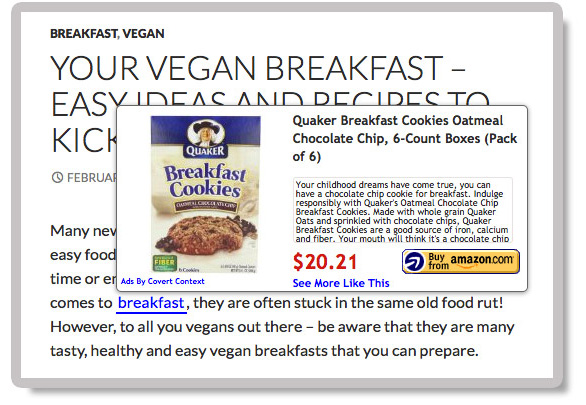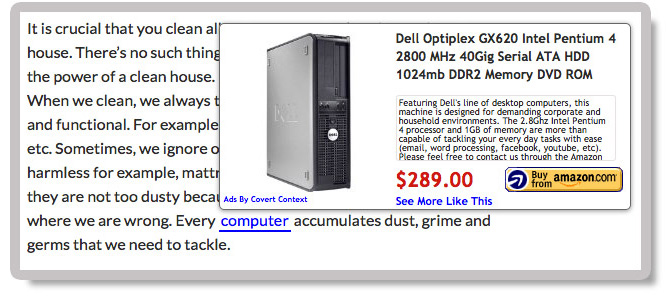 This is 'Set & Forget' All you have to do in order to get started using contextual ads is to install the plugin and set up a campaign. Simply enter a list of keywords and select where you want ads for those keywords to appear... (See the screenshot below)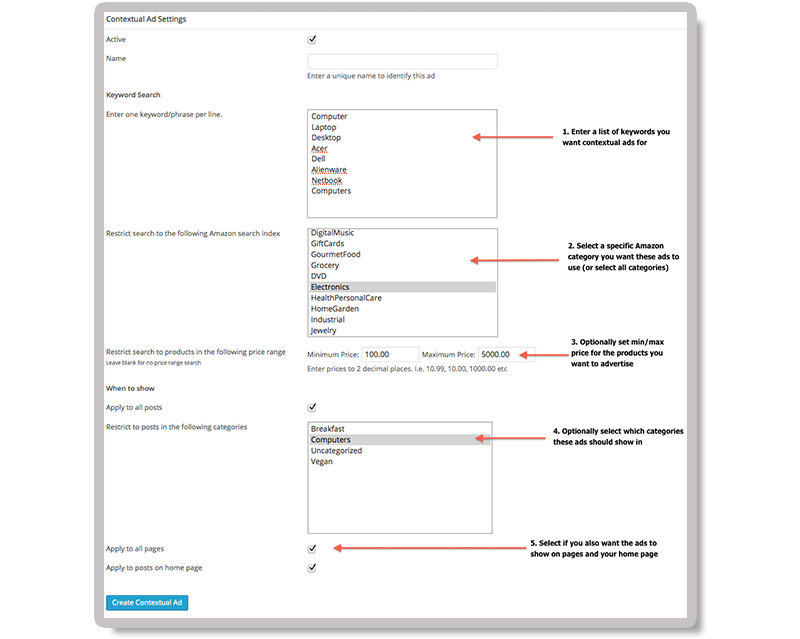 Easy, Fast & Worry Free...
Amazon is HUGE - It has products in every niche, for every keyword you can think of. That means you don't have join scores of half dead affiliate programs in order to create relevant ads for different niches.

You Don't Have To Worry About Your Links Amazon is big, reliable and isn't going anywhere - (your links will always work, which is paramount for a true set and forget contextual ad system).

Relevance Is Key Use contextual ads that are always relevant to your content.

Designed To Attract Clicks Show the ads in-text in your content in a way people will click.

Essential For Higher Conversions Use a trusted affiliate program like Amazon to increase sales and avoid hassle
The plugin will always display the top selling Amazon product for any given keyword. It doesn't matter how often or when that changes on Amazon - Covert Context will always show the best selling products in all your ads!

HANDS FREE The plugin will then automatically insert contextual ads into your post and pages - forever, without any need to touch it again. And with the self-optimizing feature your results will keep getting better and better, earning you more Amazon commissions on auto pilot!

And just like the Covert Copy plugin, we'll even include multi-site and site flipping license to Covert Context at no extra cost!

Safe & Secure Your purchase is always 100% secure and we always keep your information private...

©PromoteLabs Inc. All Rights Reserved
2248 Meridian Boulevard Suite H. Minden, NV 89423 USA
ALL TRADEMARKS AND LOGOS ARE THE PROPERTY OF THEIR RESPECTIVE OWNERS. THIS SITE AND THE PRODUCTS AND SERVICES OFFERED ON THIS SITE ARE NOT ASSOCIATED, AFFILIATED, ENDORSED, OR SPONSORED BY ANY BUSINESS LISTED ON THIS PAGE NOR HAVE THEY BEEN REVIEWED TESTED OR CERTIFIED BY ANY OTHER COMPANY LISTED ON THIS PAGE. THE RESULTS SHOWN ARE NOT TYPICAL AND RESULTS WILL VARY BASED ON YOUR MARKET, YOUR EFFORTS, COMPETITION AND MANY OTHER FACTORS OUTSIDE OF OUR CONTROL.