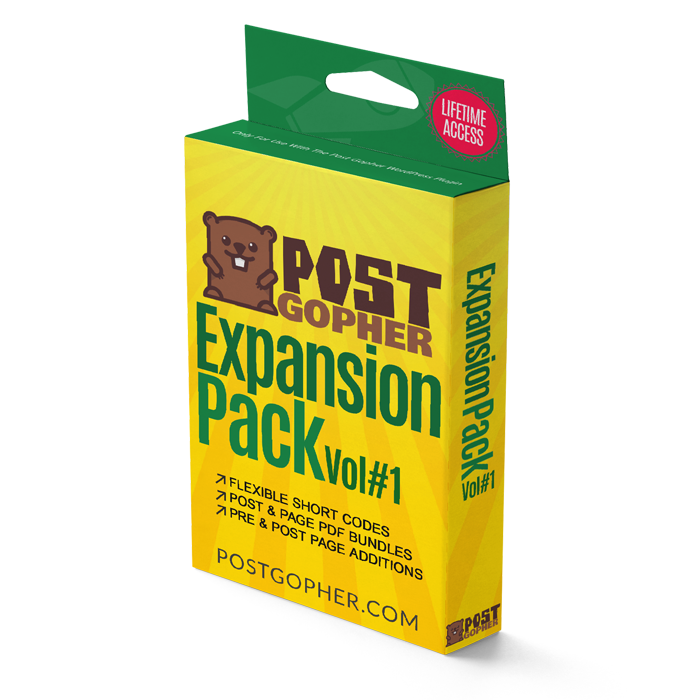 WAIT: Your Order Is Not Complete...
Limited Special Offer - Get The New Post Gopher "EXPANSION PACK"
at nearly 60% Off!
Want to Take Your Lead Capture And Profits to The Next Level?
We want you to have an true unfair advantage when it comes to your list building and income potential...
Post Gopher Shortcodes ANYWHERE!
You get instant access to the point & click shortcode builder and with it the ability to place your lead gen buttons anywhere on your blog. Add buttons to sidebars, in content, across multiple posts/pages and much more...
Post & Page 'Bundles' to PDF
Want to combine multiple posts/pages into one PDF for your readers? Now you can! You can combine multiple pages or posts and deliver extended PDF downloads and even premium content (using hidden posts or pages).
'Profit Page' Builder Integration
Add additional pages to your PDF downloads. Include a front page, end page (or both) all from within the familiar editing settings of the WordPress editor. Great for offers, ads, affiliate promos, content upgrades and MUCH MORE...
Give yourself the competitive edge to convert more visitors and increase revenue
Secure Your Special Discount - Get The Expansion Pack Today
Get instant access to these exciting extra features. No Monthly or Recurring Fees - so there's no risk at all!
Here's A Quick Breakdown Of What's Waiting For You Inside...
When you add this to your order now, you will not only get a massive discount but you will unlock all this additional exciting Post Gopher functionality to grow your list faster and your profits further...
Use ShortCodes To Place Buttons ANYWHERE!
Truly Maximize Your Opt-In Rates With Call To Action Button Placements Right Across Your Blog...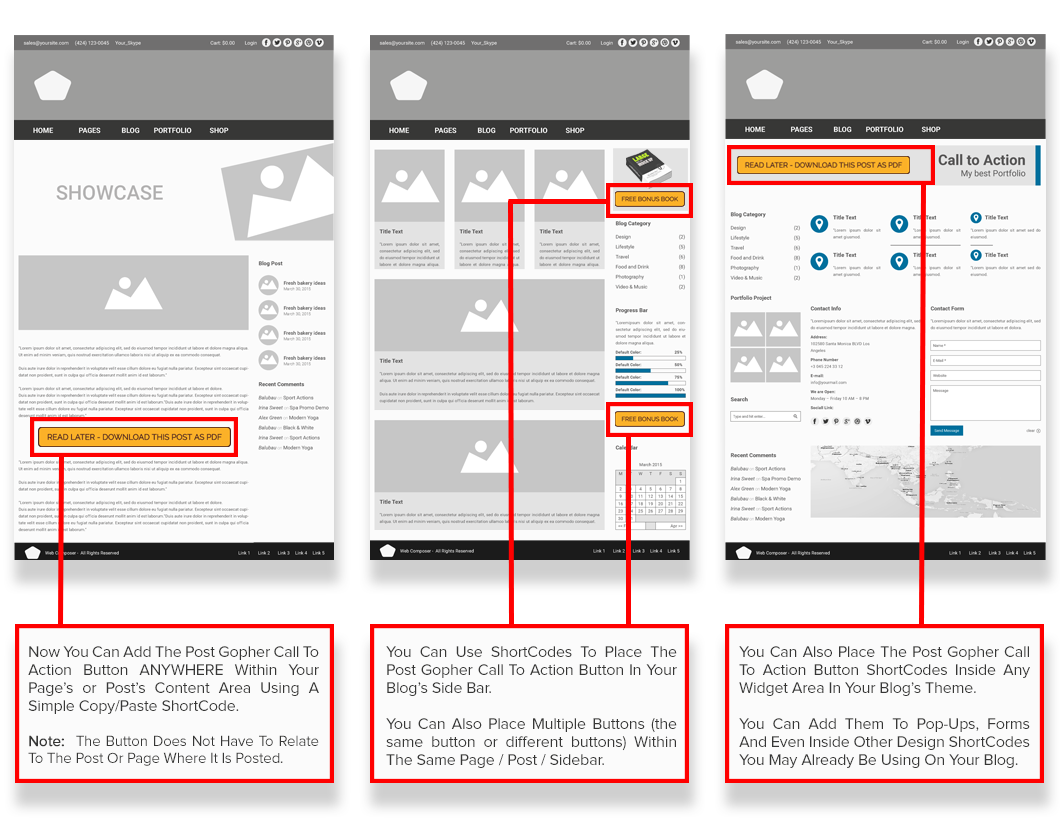 You Can Also Use ShortCodes To COMBINE Multiple Posts & Pages In A Single PDF Download!
Deliver Extended PDFs, Entire Categories, Include Hidden Posts Inside Your PDFs And Much More...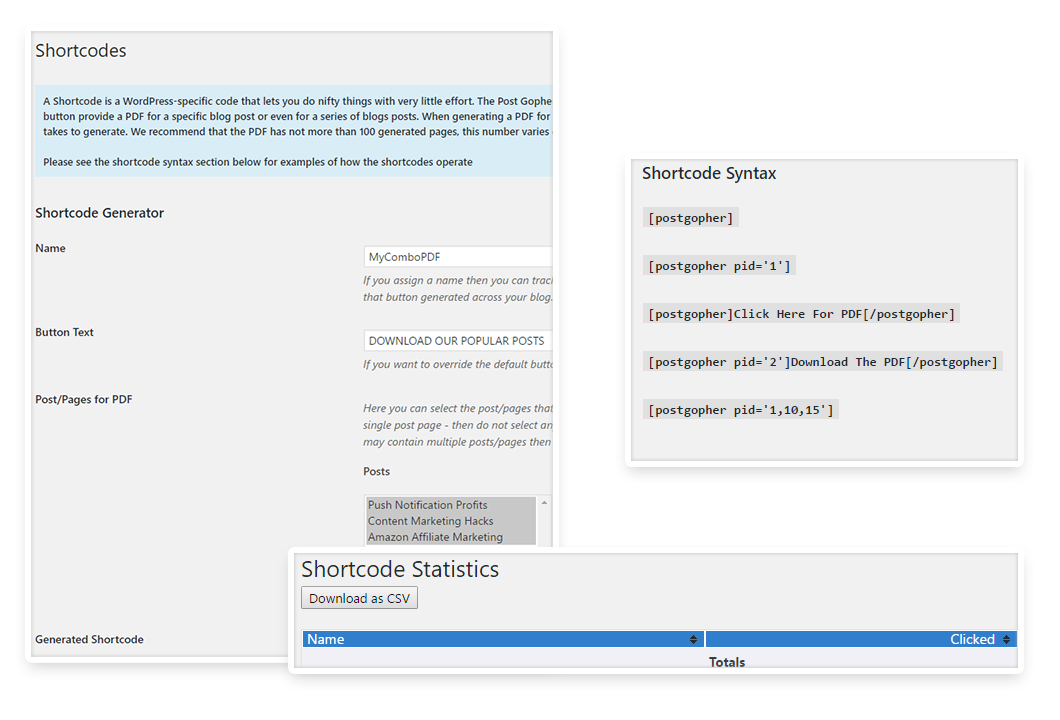 The ShortCode Expansion Features Also Add An Extra Tracking Panel To The Statistics Dashboard So You Can See How Well Your ShortCode Buttons Are Performing
Add An Extra Front Page Or End Page (Or Both) To Any Of Your PDFs Using The Profit Page Editor
With The Profit Page Editor You Could Add Legal Pages, Content Upgrades, Welcome Messages, Social Media Links, Special Offers and Additional Revenue Building Ads / Promotions - It's Up To You!
THE POST GOPHER EXPANSION PACK INCLUDES ALL FUTURE UPDATES
USE ON ALL YOUR POST GOPHER INSTALLATIONS
Purchase the Expansion Pack today and it comes with all future updates with no ongoing or recurring fees. Plus+ You can activate the expansion pack across all your installs of Post Gopher, so if you have a multi-site or unlimited license you only need purchase one time!
BONUS: Get TWO Video Profit Courses (Worth $134)
Grab The Expansion Pack TODAY and as a welcome gift, you'll get exclusive access to 2 of our Best Selling Video Coaching Programs packed with LIST BUILDING and REVENUE GENERATING tips for your blog...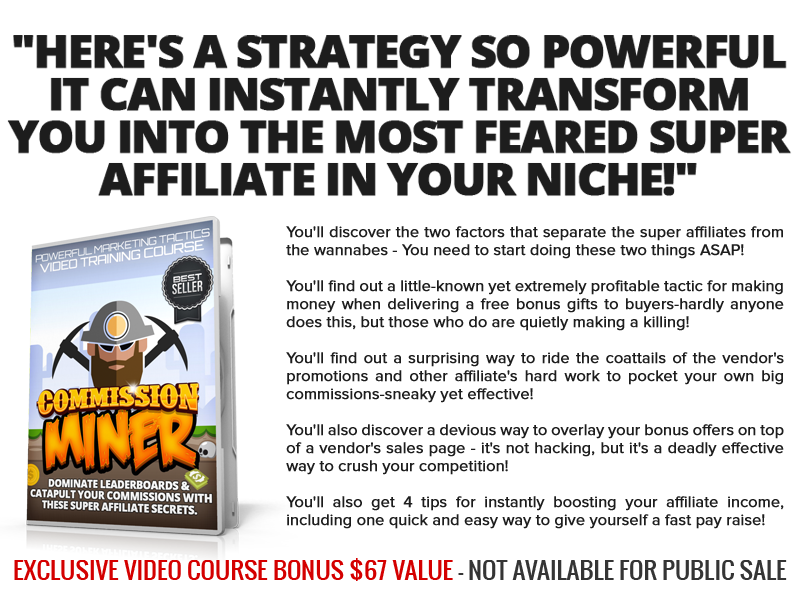 Safe & Secure Your purchase is always 100% secure and we always keep your information private...

©PromoteLabs Inc. All Rights Reserved
2248 Meridian Boulevard Suite H. Minden, NV 89423 USA
ALL TRADEMARKS AND LOGOS ARE THE PROPERTY OF THEIR RESPECTIVE OWNERS. THIS SITE AND THE PRODUCTS AND SERVICES OFFERED ON THIS SITE ARE NOT ASSOCIATED, AFFILIATED, ENDORSED, OR SPONSORED BY ANY BUSINESS LISTED ON THIS PAGE NOR HAVE THEY BEEN REVIEWED TESTED OR CERTIFIED BY ANY OTHER COMPANY LISTED ON THIS PAGE. THE RESULTS SHOWN ARE NOT TYPICAL AND RESULTS WILL VARY BASED ON YOUR MARKET, YOUR EFFORTS, COMPETITION AND MANY OTHER FACTORS OUTSIDE OF OUR CONTROL.